Everyone in Indonesia is familiar with Japan and its products, especially in automotive industry. Toyota, Honda, and Mitsubishi are the three brands which dominate the streets in Indonesia.
But surprise, surprise! Do you know that Mitsubishi is founded by a Scotsman?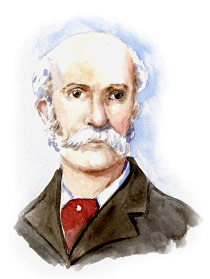 His name is Thomas Blake Glover. He was born in 1838 in Fraserburgh, (the same town where Stuart's father now resides), the largest shellfish port in Europe, 40 miles North of Aberdeen. Glover arrived in Nagasaki when he was 21 and worked for tea merchants (which possibly also did a bit of opium trading too), and two years later set up his own independent business, Glover Trading Co. (Guraba-Shokai). His business was a success, and in 1863 he built Glover House (the oldest Western-style building in Japan) on Minami Yamate, a beautiful hillside overlooking Nagasaki Harbour.
clipped from
en.wikipedia.org
In 1863, Glover helped the Ch?sh? Five get to London on Jardine Matheson ships. He also helped send fifteen trainees from Satsuma under Godai Tomoatsu in 1865. He was also responsible in 1865 for bringing the first steam railway locomotive called "Iron Duke" to Japan which he demonstrated on a short track at Oura in Nagasaki.

Glover assisted in toppling the Tokugawa Shogunate during the Meiji Restoration and as such, had cordial relations with the new government. These links led to his being responsible for commissioning one of the first warships in the Imperial Japanese Navy (the Jho Sho Maru, later called Ry?j? Maru) which was built by Alexander Hall & Co. in Aberdeen and launched on March 27, 1869. Glover also commissioned the smaller Ho Sho Maru for the navy and the Kagoshima for the Satsuma clan from the same Aberdeen shipyard.

In 1868, Glover made a contract with the Hizen (Saga) clan and began to develop Japan's first coal mine at Takashima. He also brought the first dry dock to Japan.
Glover was also a key part in the industrialisation of Japan. After the success of commissioning three warships to be built at Aberdeen shipyards for the Japanese Navy, he formed his own shipbuilding company. This developed into the company Mitsubishi after his bankruptcy in 1870. Glover remained in the company as a consultant, and his knowledge and understanding of international business was invaluable to Mitsubishi, where he was an advisor for 40 years.
He also helped set up the Japan Brewery Company, which went on to become the Kirin Brewery Company, Ltd., now a major player in the Asian market. Some have suggested that the facial hair of the fantastic creature that appears on Kirin Beer labels is in fact a tribute to Glover who sported a similar moustache. Check out the beer image here, and tell me if you can see the resemblance with Glover's moustache, as I only see a mixture of dragon, donkey, horse, and goat….
Glover also formed strong links with the former samurai clans Satsuma and Chôshu, and was participating in sending sons of these clans to Britain to study in 1862. Hirobumi Ito, later become the first prime minister of Japan, was one of them.
Another claim to fame is that Glover has been linked with Giacomo Puccini's opera "Madama Butterfly," which is set in Nagasaki, although there is no historical evidence to support this claim, except that Glover's wife Tsuru (the daughter of a Samurai), appears wearing a kimono with a butterfly design on the sleeve on some photographs. Legend has it that Tsuru had been obliged, at the age of 17, to divorce her first husband, a samurai, due to political differences between her family and his at the time of the overthrow of the Tokugawa Shogunate, and was thus separated from her baby daughter, Sen. However, there the resemblance between Tsuru and the fictional character ends, for although there may have been a suicide attempt, she lived to marry Thomas Glover, and to give birth to Hana and Tomisaburo. There is also no evidence for the claim that Tsuru went by the nickname "Ochô-san" (Ms Butterfly).
Glover, eventually became the most famous foreigner in Japan, was the first non-Japanese to be awarded the Order of the Rising Sun – one of the top honours in the country. He is also often called as The Scottish Samurai. He died in Tokyo on 13 December 1911, aged 73 and his ashes were interred in Nagasaki's Sakamoto International Cemetery.
Glover's former residences in Nagasaki and Aberdeen have both since been turned into museums. Glover Garden (?????) in Nagasaki attracts two million visitors each year. The house is located on the Minamiyamate hillside overlooking Nagasaki harbor. As the house and its surroundings are reminiscent of Puccini's opera, it is also known as the "Madame Butterfly House." Mitsubishi Heavy Industries donated the mansion to the city of Nagasaki in 1957. The company also acquired the Glover family home in Scotland and donated it to the Grampian-Japan Trust, a natural and historical preservation society. Now Glover House, 79 Balgownie Road, Bridge of Don, Aberdeen is now open to the public as a restored Victorian house, telling the Glover story.
**Summarized from many sources. Click on the pictures to go to their original websites.